Chicken Feed
We have Reduced some of our Poultry feed prices as of Mon 14th October 2019 – Please see below 
Cash, Cheque or bank transfer accepted, sorry no card facilities
We sell a full range of Heygates poultry feeds at unbeatable prices in 20kg bags.
Any quantity for collection with discounts on 12 – 24 bags and double discount 25 bags plus. We can load a full pallet onto trailers by forklift.
Items for sale :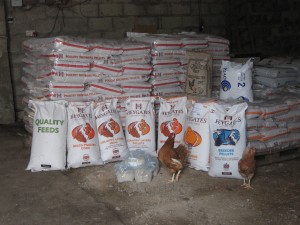 Layers Pellets and Meal – 20kg bag

1-11 £6.80 each
12+ £6.60 each
25+ £6.40 each

Mixed Poultry Corn (20kg)

1-11 £6.80 each
12+ £6.60 each
25+ £6.40 each

Baby Chick Crumbs (5, 10 or 20kg)
Growers Pellets (10 or 20kg)
Finisher Pellets (20kg)
Whole Wheat (10 or 20kg)
Quail and Partridge pellets (20kg)
Cut Maize
Mixed Grit (5 or 25kg)
Other Grits
Red Mite Powder (1kg)
Hay sold in bags
Straw sold in bags
Full guidance is always available on poultry nutrition, so for top quality and low prices contact us.